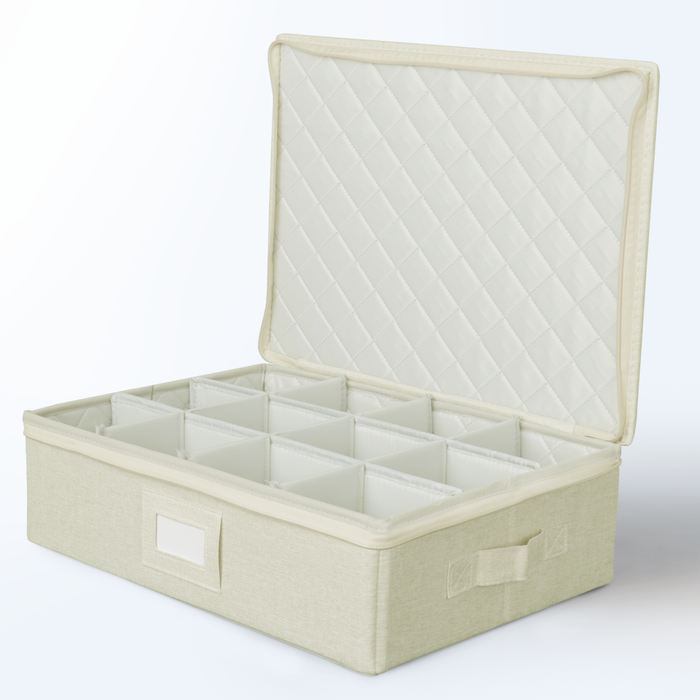 StorageLAB Cup and Mug Storage Containers for Kitchen Organization – Quilted, Cream or Grey
Sale
Sale
Original price
$25.99
-
Original price
$25.99
The Perfect Match for Your Delicate Drinkware
Add StorageLAB's Cup and Mug Hard Case Storage Bins to your list of kitchen essentials for organization and storage solutions that won't let you down. Keep your beloved pieces looking good as new.
This kitchen storage box holds 12 tea cups and coffee mugs up to 4x4 in size. Made with a hard-shell outer material, this cup storage container is stackable to save even more space and is made extra sturdy for easy transport or travel. With its dividers, each piece gets its compartment for the best protection.
Neutral and elegant in a cream or grey color, these cup and mug containers are household essentials that fit right into any corner of your kitchen, home, or storage space. Keep your drinkware all in one place so it's ready to grab for special occasions.

Holds 12x small 

tea cups

 to large coffee 

mugs

 up to 4x4 in size.

Stackable hard-shell design for reliable protection during storage and transport.

Soft, 

quilted 

lining with dividers to give extra 

cushion

 and security.

Woven linen exterior with dual zippers and label windows for stylish organization.

13''L x 17''W x 5''H case with 12 4"x4" compartments.
The Only Cup and Mug Storage Solution You Need
Reliable Protection 
StorageLAB Cup and Mug Storage Bins give your most special drinkware pieces the premium protection they deserve. Keep your mugs and cups free from dust, dirt, and grime so you're ready to whip them out to keep you warm on special occasions.
Premium Organization 
Store your cups and mugs in one place with our stylish and stackable cream and grey storage bins. Our cup and mug storage case comes with dual zippers that give your dishes the security needed to stay in place. The label holder windows make it easy to identify and organize the cases any way or anywhere you want.
Stackable and Easy to Transport
With hard shell exteriors, these stackable storage containers can be placed on top of each other to save you even more space. Not only that, these sets are the perfect companion when you need to bring your mugs on the road for moving, transporting, and traveling.
Stylish and Space-saving
This storage box holds 12 pieces of tea cups, coffee mugs, and other drinkware up to 4x4 in size. With a sturdy and spacious divider that gives each piece its compartment, you'll be able to prevent chips, cracks, and scratches.